home latest news
Latest issue
The latest issue of AMCS, 2019, Vol. 29, No. 4, contains a special section on New Perspectives in Nonlinear and Intelligent Control (In Honor of Alexander P. Kurdyukov), edited by Julio B. Clempner, Enso Ikonen and Alexander P. Kurdyukov, and covers altogether 15 papers. Many thanks to the Editors and Authors for their cooperation with us on this issue! Preface.
20 December 2019
Forthcoming issue
The next issue, 2020, Vol. 30, No. 1, will be a regular one, to be published in late March 2020.
20 December 2019
Our Impact Factor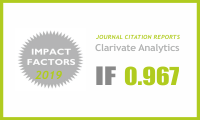 Our most recent Impact Factor (for 2018), published in Clarivate Analytics' latest InCites Journal Citation Reports, amounts to 1.504, while our new 5-Year IF is 1.553. We appreciate all contributions and hope for continuous interest in our journal.
21 June 2019
Polish ministerial points
According to the announcement of 18 December 2019, papers published in AMCS receive 100 points in the evaluation procedure of the Polish Ministry of Science and Higher Education. Details.
31 December 2019
Subscription
We encourage everyone to subscribe to the print version of our journal for full and timely coverage of our publications. To enter your subscription, please visit the Subscription section.
Author resources updated
Please note that our LaTeX class and instructions for authors have been modified to add new functionalities and useful guidelines. Make sure you download the currently biding versions from the Guide section.
12 October 2018
Back issues digitized
We are happy to announce that full texts of all AMCS publications are available online – the back issues of our journal, i.e., Volumes 1–10 (1991–2000), totalling 410 papers, have been digitized as scans and made available for download. We hope this will make the earlier works better known in the scientific community.
21 December 2016
Recommended reading
We would like to draw our Readers' attention to the following recent articles:
Fusion of clinical data: A case study to predict the type of treatment of bone fractures by Anam Haq, Szymon Wilk, Alberto Abelló, describing a case study aimed at developing data fusion models that resulted in various therapeutic decision models for predicting the type of treatment (surgical vs. non-surgical) for patients with bone fractures and published within a special section on Exploring Complex and Big Data (2019, Vol. 29, No. 1).
An adaptive observer design approach for a class of discrete-time nonlinear systems by Krishnan Srinivasarengan, José Ragot, Christophe Aubrun, Didier Maquin, considering the problem of joint estimation of states and some constant parameters for a class of nonlinear discrete-time systems and published within a special section on Issues in Parameter Identification and Control (2018, Vol. 28, No. 1).
Dimension reduction for objects composed of vector sets by Marton Szemenyei, Ferenc Vajda, who propose new discriminant analysis methods that are able to satisfy two criteria at the same time: separating between classes and between the nodes of an object instance (2017, Vol. 27, No. 1).
E-newsletter
To receive or cancel our quarterly electronic newsletter, please apply to the Editorial Office.