home latest news
Latest issue
The latest issue of AMCS, 2020, Vol. 30, No. 3, contains a special section on Big Data and Signal Processing, edited by Joanna Kołodziej, Sabri Pllana, Salvatore Vitabile and covers altogether 15 papers. Many thanks to the Editors and Authors for their cooperation with us on this issue! Preface
17 September 2020
Forthcoming issue
The next issue, 2020, Vol. 30, No. 4, will be a regular one, to be published in late December 2020.
17 September 2020
License to publish updated
Please note that our license to publish has been modified to clarify some of the regulations included. Make sure you download the currently biding version from the Guide section.
23 September 2020
Our Impact Factor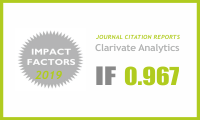 Our most recent Impact Factor (for 2019), published in Clarivate Analytics' latest InCites Journal Citation Reports, amounts to 0.967, while our new 5-Year IF is 1.105. We appreciate all contributions and hope for continuous interest in our journal.
29 June 2020
Polish ministerial points
According to the announcement of 18 December 2019, papers published in AMCS receive 100 points in the evaluation procedure of the Polish Ministry of Science and Higher Education. Details.
31 December 2019
Recommended reading
We would like to draw our Readers' attention to the following recent articles:
Revisiting the optimal probability estimator from small samples for data mining by Bojan Cestnik, which presents an in-depth analysis of several probability estimation methods with respect to their mean absolute errors and demonstrates their potential advantages and disadvantages (2019, Vol. 29, No. 4).
The feature selection problem in computer-assisted cytology by JMarek Kowal, Marcin Skobel, Norbert Nowicki, which focuses on computerized breast cancer classification with the task of marking cellular samples coming from fine-needle biopsy as either benign or malignant (2018, Vol. 28, No. 4).
CCR: A combined cleaning and resampling algorithm for imbalanced data classification by Michał Koziarski, Michał Woźniak, which describes a novel resampling technique focused on proper detection of minority examples in a two-class imbalanced data task (2017, Vol. 27, No. 4).
Subscription
We encourage everyone to subscribe to the print version of our journal for full and timely coverage of our publications. To enter your subscription, please visit the Subscription section.
Back issues digitized
We are happy to announce that full texts of all AMCS publications are available online – the back issues of our journal, i.e., Volumes 1–10 (1991–2000), totalling 410 papers, have been digitized as scans and made available for download. We hope this will make the earlier works better known in the scientific community.
21 December 2016
E-newsletter
To receive or cancel our quarterly electronic newsletter, please apply to the Editorial Office.