home latest news
Latest issue
The latest issue of AMCS, 2019, Vol. 29, No. 3, contains a special section on Information Technology for Systems Research, edited by Piotr Kulczycki, Janusz Kacprzyk, László T. Kóczy and Radko Mesiar, and covers altogether 15 papers. Many thanks to the Editors and Authors for their cooperation with us on this issue! Preface
23 September 2019
Forthcoming issue
The next issue, 2019, Vol. 29, No. 4, will include a special section on ew Perspectives of Nonlinear and Intelligent Control, and will be published in late December 2019.
23 September 2019
Our Impact Factor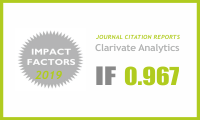 Our most recent Impact Factor (for 2018), published in Clarivate Analytics' latest InCites Journal Citation Reports, amounts to 1.504, while our new 5-Year IF is 1.553. We appreciate all contributions and hope for continuous interest in our journal.
21 June 2019
Polish ministerial points
According to the announcement of 31 July 2019, papers published in AMCS receive 100 points in the evaluation procedure of the Polish Ministry of Science and Higher Education. Details.
1 August 2019
Subscription
We encourage everyone to subscribe to the print version of our journal for timely and steady supply of our publications. To enter your subscription, please visit the Subscription section.
Author resources updated
Please note that our LaTeX class and instructions for authors have been modified to add new functionalities and useful guidelines. Make sure you download the currently biding versions from the Guide section.
12 October 2018
Back issues digitized
We are happy to announce that full texts of all AMCS publications are available online – the back issues of our journal, i.e., Volumes 1–10 (1991–2000), totalling 410 papers, have been digitized as scans and made available for download. We hope this will make the earlier works better known in the scientific community.
21 December 2016
Recommended reading
We would like to draw our Readers' attention to the following recent articles:
Impact of low resolution on image recognition with deep neural networks: An experimental study by Michał Koziarski, Bogusław Cyganek, who experimentally evaluate the impact of low resolution on the classification accuracy of several notable neural architectures of recent years (2018, Vol. 28, No. 4).
Interpretable decision-tree induction in a big data parallel framework by Abraham Itzhak Weinberg, Mark Last, aimed at developing an efficient algorithm for choosing one representative model from multiple, locally induced decision-tree models, and published within a special section on Exploring Complex and Big Data (2017, Vol. 27, No. 4).
Set-membership identifiability of nonlinear models and related parameter estimation properties by Carine Jauberthie, Louise Travé-Massuyès, Nathalie Verdière, which casts identifiability in a set-membership (SM) framework and relates recently introduced properties, namely, SM-identifiability, μ-SM-identifiability, and ε-SM-identifiability, to the properties of parameter estimation problems (2016, Vol. 26, No. 4).
E-newsletter
To receive or cancel our quarterly electronic newsletter, please apply to the Editorial Office.