home latest news
Latest issue
The latest issue of AMCS, 2020, Vol. 30, No. 1, is a regular one and covers altogether 15 papers. Many thanks to the Authors for their cooperation with us on this issue!
23 March 2020
Forthcoming issue
The next issue, 2020, Vol. 30, No. 2, will also be a regular one, to be published in late June 2020.
23 March 2020
Our Impact Factor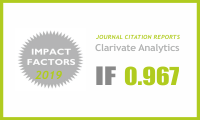 Our most recent Impact Factor (for 2018), published in Clarivate Analytics' latest InCites Journal Citation Reports, amounts to 1.504, while our new 5-Year IF is 1.553. We appreciate all contributions and hope for continuous interest in our journal.
21 June 2019
Polish ministerial points
According to the announcement of 18 December 2019, papers published in AMCS receive 100 points in the evaluation procedure of the Polish Ministry of Science and Higher Education. Details.
31 December 2019
Recommended reading
We would like to draw our Readers' attention to the following recent articles:
LMI-based robust control of uncertain nonlinear systems via polytopes of polynomials by Marcelino Sánchez, Miguel Bernal, concerned with robust analysis and control of uncertain nonlinear systems with parametric uncertainties via an approach that makes use of a polytopic form of a generalisation of the characteristic polynomial, which proves to outperform former results on the subject (2019, Vol. 29, No. 2).
Analysis of an N-policy GI/M/1 queue in a multi-phase service environment with disasters by Tao Jiang, Sherif I. Ammar, Baoxian Chang, Liwei Liu, who investigate the said policy in the case where a system tends to suffer from disastrous failures while it is in operative service environments, making all present customers leave the system simultaneously and the server stop working completely (2018, Vol. 28, No. 2).
Fault detection in nonlinear systems via linear methods by Alexey Zhirabok, Alexey Shumsky, Sergey Solyanik, where the problem of robust linear and nonlinear diagnostic observer design is considered and a method is suggested to construct the observers that are disturbance decoupled or have minimal sensitivity to the disturbances (2017, Vol. 27, No. 2).
Subscription
We encourage everyone to subscribe to the print version of our journal for full and timely coverage of our publications. To enter your subscription, please visit the Subscription section.
Author resources updated
Please note that our LaTeX class and instructions for authors have been modified to add new functionalities and useful guidelines. Make sure you download the currently biding versions from the Guide section.
12 October 2018
Back issues digitized
We are happy to announce that full texts of all AMCS publications are available online – the back issues of our journal, i.e., Volumes 1–10 (1991–2000), totalling 410 papers, have been digitized as scans and made available for download. We hope this will make the earlier works better known in the scientific community.
21 December 2016
E-newsletter
To receive or cancel our quarterly electronic newsletter, please apply to the Editorial Office.