home latest news
Author resources updated
Please note that our LaTeX class and instructions for authors have been modified to add new functionalities and useful guidelines. Make sure you download the currently biding versions from the Guide section.
18 January 2017
Latest issue
The latest issue of AMCS, 2016, Vol. 26, No. 4, is a regular one and covers 15 papers. Many thanks to the Authors for their cooperation with us on this issue!
21 December 2016
Forthcoming issue
The next issue, 2017, Vol. 27, No. 1, will be a regular one, to be published at the end of March 2017.
21 December 2016
Back issues digitized
We are happy to announce that as of today full texts of all AMCS publications are available online – the back issues of our journal, i.e., Volumes 1–10 (1991–2000), totalling 410 papers, have been digitized as scans and made available for download. We hope this will make the earlier works better known in the scientific community.
21 December 2016
Our Impact Factor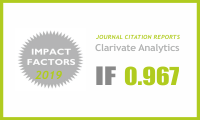 Our most recent Impact Factor (for 2015), published in Thomson Reuters' Journal Citation Reports/Science Edition, amounts to 1.037, while our new 5-Year IF is 1.151. We appreciate all contributions and hope for continuous interest in our journal.
14 June 2016
2017 Subscription
We encourage everyone to subscribe to the print version of our journal for timely and steady supply of our publications. To enter your subscription, please visit the Subscription section.
Polish ministerial points
According to the announcement of 23 December 2015, papers published in AMCS receive 25 points in the evaluation procedure of the Polish Ministry of Science and Higher Education (Part A of the list). Details.
04 January 2016
Recommended reading
We would like to draw our Readers' attention to the following recent articles:
RGB-D terrain perception and dense mapping for legged robots game by Dominik Belter, Przemysław Łabecki, Péter Fankhauser, Roland Siegwart, which addresses the issues of unstructured terrain modeling for the purpose of navigation with legged robots (2016, Vol. 26, No. 1)
Detection and identification of loss of efficiency faults of flight actuators by Daniel Ossmann, Andreas Varga, who propose linear parameter-varying (LPV) model-based approaches to the synthesis of robust fault detection and diagnosis (FDD) systems for loss of efficiency (LOE) faults of flight actuators (2015, Vol. 25, No. 1 - special issue on Safety, Fault Diagnosis and Fault Tolerant Control in Aerospace Systems)
Cross-task code reuse in genetic programming applied to visual learning by Wojciech Jaśkowski, Krzysztof Krawiec, Bartosz Wieloch, who propose a method that enables effective code reuse between evolutionary runs that solve a set of related visual learning tasks (2014, Vol. 24, No. 1).
Electronic newsletter
To receive our quarterly electronic newsletter, please apply to the Editorial Office.