home latest news
Service interruption
Please note that due database maintenance our online system for authors and reviewers will be unavailable on Friday, 2 March 2018, between 3.30 pm and 7.30 pm CET . We apologise for the inconvenience!
1 March 2018
Latest issue
The latest issue of AMCS, 2017, Vol. 27, No. 4, contains a special section on Exploring Complex and Big Data, edited by Jerzy Stefanowski, Krzysztof Krawiec and Robert Wrembel, and covers 15 papers. Many thanks to the Editors and Authors for their cooperation with us on this issue!
21 December 2017
Forthcoming issue
The next issue, 2018, Vol. 28, No. 1, will include a special section on Issues in Parameter Identification and Control, and will be published at the end of March 2018.
21 December 2017
Our Impact Factor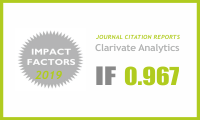 Our most recent Impact Factor (for 2016), published in Thomson Reuters' 2017 Journal Citation Reports/Science Edition, amounts to 1.420, while our new 5-Year IF is 1.597. We appreciate all contributions and hope for continuous interest in our journal.
14 June 2017
2018 Subscription
We encourage everyone to subscribe to the print version of our journal for timely and steady supply of our publications. To enter your subscription, please visit the Subscription section.
Author resources updated
Please note that our LaTeX class and instructions for authors have been modified to add new functionalities and useful guidelines. Make sure you download the currently biding versions from the Guide section.
18 January 2017
Back issues digitized
We are happy to announce that as of today full texts of all AMCS publications are available online – the back issues of our journal, i.e., Volumes 1–10 (1991–2000), totalling 410 papers, have been digitized as scans and made available for download. We hope this will make the earlier works better known in the scientific community.
21 December 2016
Polish ministerial points
According to the announcement of 12 December 2016, papers published in AMCS receive 25 points in the evaluation procedure of the Polish Ministry of Science and Higher Education (Part A of the list). Details.
26 January 2017
.
Recommended reading
We would like to draw our Readers' attention to the following recent articles:
Analysis of an MAP/PH/1 queue with flexible group service game by Arianna Brugno, Ciro D'Apice, Alexander Dudin, Rosanna Manzo, who introduce and analyze a novel customer batch service discipline for a single server queue (2017, Vol. 27, No. 1).
Stability analysis and H∞ control of discrete T–S fuzzy hyperbolic systems by Ruirui Duan, Junmin Li, Yanni Zhang, Ying Yang, Guopei Chen, which focuses on the problem of constraint control for a class of discrete-time nonlinear systems (2016, Vol. 26, No. 1).
A fault tolerant direct control allocation scheme with integral sliding modes by Mirza Tariq Hamayun, Christopher Edwards, Halim Alwi, Abdulrahman Bajodah, published in a special issue on Safety, Fault Diagnosis and Fault Tolerant Control in Aerospace Systems (2015, Vol. 25, No. 1).
Electronic newsletter
To receive our quarterly electronic newsletter, please apply to the Editorial Office.