home latest news
Latest issue
The latest issue of AMCS, 2019, Vol. 29, No. 1, contains a special section on Exploring Complex and Big Data, edited by Johann Gamper and Robert Wrembel, and covers altogether 15 papers. Many thanks to the Editors and Authors for their cooperation with us on this issue!
21 March 2019
Forthcoming issue
The next issue, 2019, Vol. 29, No. 2, will include a special section on Advances in Complex Cloud and Service Oriented Computing, and will be published at the end of June 2019.
21 March 2019
Our Impact Factor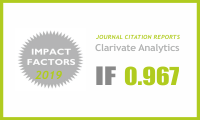 Our most recent Impact Factor (for 2017), published in Clarivate Analytics' latest InCites Journal Citation Reports, amounts to 1.694, while our new 5-Year IF is 1.712. We appreciate all contributions and hope for continuous interest in our journal.
27 June 2018
2019 Subscription
We encourage everyone to subscribe to the print version of our journal for timely and steady supply of our publications. To enter your subscription, please visit the Subscription section.
Author resources updated
Please note that our LaTeX class and instructions for authors have been modified to add new functionalities and useful guidelines. Make sure you download the currently biding versions from the Guide section.
12 October 2018
Back issues digitized
We are happy to announce that full texts of all AMCS publications are available online – the back issues of our journal, i.e., Volumes 1–10 (1991–2000), totalling 410 papers, have been digitized as scans and made available for download. We hope this will make the earlier works better known in the scientific community.
21 December 2016
Polish ministerial points
According to the announcement of 12 December 2016, papers published in AMCS receive 25 points in the evaluation procedure of the Polish Ministry of Science and Higher Education (Part A of the list). Details.
26 January 2017
Recommended reading
We would like to draw our Readers' attention to the following recent articles:
Data-driven techniques for the fault diagnosis of a wind turbine benchmark by Silvio Simani, Saverio Farsoni, Paolo Castaldi, which deals with the fault diagnosis of wind turbines and investigates viable solutions to the problem of earlier fault detection and isolation, and was published within the special section on Advanced Diagnosis and Fault-Tolerant Control Methods (2018, Vol. 28, No. 2).
A hybrid scheduler for many task computing in big data systems by Laura Vasiliu, Florin Pop, Catalin Negru, Mariana Mocanu, Valentin Cristea, Joanna Kolodziej, which focuses on providing a hybrid scheduling algorithm for many task computing that addresses big data environments with few penalties, taking into consideration the deadlines and satisfying a data dependent task model (2017, Vol. 27, No. 2).
Robust aperiodic-disturbance rejection in an uncertain modified repetitive-control system by Lan Zhou, Jinhua She, Chaoyi Li, Changzhong Pan, which concerns the problem of designing an EID-based robust output-feedback modified repetitive-control system (ROFMRCS) that provides satisfactory aperiodic-disturbance rejection performance for a class of plants with time-varying structured uncertainties (2016, Vol. 26, No. 2).
E-newsletter
To receive or cancel our quarterly electronic newsletter, please apply to the Editorial Office.